1871 Singer New Family / Model 12 for sale
(All pictures are clickable)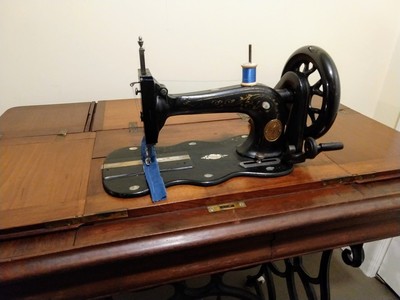 I don't have room for this lovely machine.
The serial number (618146) puts it at 1871, so this is technically a Singer "New Family" machine. Singer didn't start calling it a Model 12 for several more years.
It sews well, with an even stitch, and balanced tension. It has the earlier-style tension adjustment, with the knob on the faceplate. (Later machines have the tensioner knob at the top.)
The condition is very good, given its age. The base finish is mostly intact, with some crazing. The inlaid mother of pearl is also mostly complete. There are some mother of pearl chips missing, but almost all of those chips are original: the original paint fills those spots. The hand-painted gold decoration is largely present, though worn in some areas. The right-hand access slider has scarred the finish where it sometimes scrapes the paint. There's a large chip of paint missing from the handwheel. These areas are all shown in the photos.
The bobbin winder is complete, and functional.
The clever flip out wooden case is in very good condition as well. The interior finish is excellent. The exterior finish is uneven, since the original shellac has failed. There are splinters missing from each of the rear edges of the side pieces, as shown in the photos. The key to the lock is missing.
The treadle irons are in excellent condition, with no cracks. The original ceramic casters are intact, with some chipping near the axle pins. The casters have been remounted slightly higher on the legs, to discourage their use.
Includes a shuttle and two long bobbins (one antique, the other a reproduction). Also includes the leather drive belt, of course.
Machine is in Arlington, MA. Will consider free delivery in New England, the closer to Boston the better.
Asking $250, reasonable offers considered.
Contact me via email: pgf@foxharp.boston.ma.us
---